Our Equine Therapists
Our current equine therapists are both STRIDE owned and volunteers. In order to expand our program offerings, STRIDE is always seeking suitable horses who can be dedicated to the program on a full time basis.
Therapeutic riding is one of the most demanding jobs any horse will ever be asked to do. Therefore, therapy horses have to be physically and mentally sound, gentle, people-oriented, and they absolutely must have good ground manners.
Most horses are happiest when they have a job to do, and we find that aging horses are particularly well-suited to therapy work. Horses that lack the stamina necessary for long trail rides or vigorous horse sports, but that still possess a desire to work and eagerness to please, might make suitable therapy horses.
We encourage you to consider donating your healthy older horse to STRIDE. Please contact us if you would like our trainers to examine and test a horse you wish to donate. All donations to STRIDE are tax deductible to the extent allowable by law.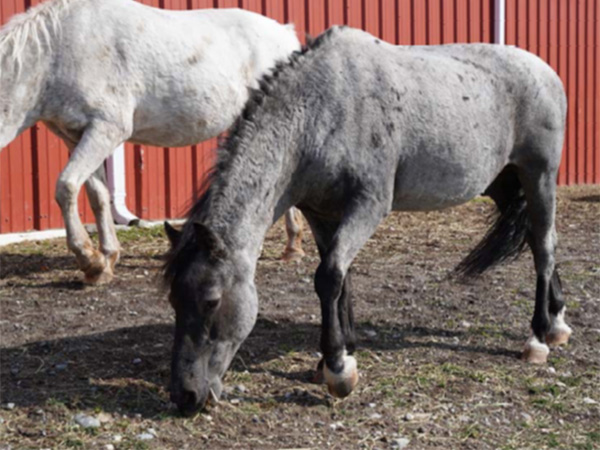 Blueberry
Blueberry is 29 years old. He is a Curly Welsh cross. He stands 12.1 hands, making him the smallest horse at STRIDE and qualifying him as a pony. Blueberry has been at STRIDE since 2013. Blueberry loves children. He is a powerful pony and has a lot of lesson hours. He communicates very well with the horse leader too. When he was younger, he was a 4H pony and he was used to jump and for dressage. Blueberry responds well to his rider and will stop if he feels the rider is having any difficulties.
Cherokee
Cherokee is 26 years old. He is a Quarter horse and Percheron cross. At 17.1 hands, Cherokee is the tallest horse at STRIDE. He has been at STRIDE since 2017. Cherokee was a lesson horse at Sindorf Equestrian Center prior to his retirement. He is also the 2011 Alaska State Horseshow Long Stirrup Reserve Champion. When he was younger, he did a lot of jumping and dressage. He was donated to STRIDE and fits in like a gem. He is sweet and lovable. He will let everyone know when it is feeding time by knocking on the door to the barn with his hoof.
Coy
Coy is 18 years old. She is a Morgan Horse and is 14.2 hands. She has been at The Ridge since 2008. She is a sweet girl that loves to be brushed, scratched, and played with. Her buddies are Crown and Ruger and she misses them when they aren't around. She is initially shy, but with a few scratches or a good brushing, she warms right up.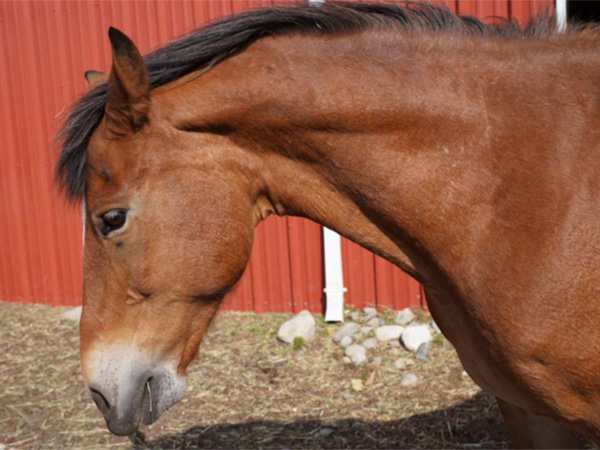 Magnum
Magnum is 25 years old. He is a Draft Horse cross. He stands 14.1 hands tall. Magnum is a rescue and has been with STRIDE since 2013. Magnum was a trail horse and he has a lot of hunting experience. He is sure footed, patient, and stead- fast. He is very attuned to his rider and responsive to his rider's needs.
Blue
Blue aka "Muley" is 30 years old. He is a white mule. He is 14.1 hands. Muley has been at The Ridge since 2013 and participates in STRIDE activities as well. Muley has hunting experience. He likes children and LOVES attention, scratches, and brushing. He is very sweet, smart, and can be as stubborn as a mule.
Gone But Not Forgotten. Always in Our Hearts.
Patches
Bentley
Cody
Suni